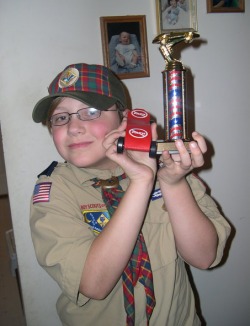 Local Boy Scout Webelo Samuel Smith of Charles Town has taken several awards at February 27th's Pinewood Derby with his StopPATH car.


Ten year-old Sam, the son of StopPATH members Steve and Shirley Smith, designed and built the winning car himself as a way to raise awareness about the PATH project.


Sam's StopPATH car took first place as fastest car in his Webelos den and 5th overall for his pack. Sam was also awarded a certificate for having the most unique car.


Sam worries about where his family is going to live if PATH is constructed just across the street from the home they have lived in for nearly 20 years. He has been a great asset to StopPATH over the past year, helping with our fair booth, our christmas parade float and many other projects.


Congratulations to Sam not only for his Pinewood Derby win but also for being so involved in his community at such a young age! What a great kid!