On January 21, 2011, Ali Haverty and I filed a "Formal Challenge to Potomac-Appalachian Transmission Highline, LLC 2010 Formula Rate Annual Update." This was after several months of rather frustrating information requests to an active and threatening PATH transmission project. We had no expertise or legal help, we simply did the best we could with available processes.

Now, nearly 6 years later, the Federal Energy Regulatory Commission has confirmed our contentions that PATH should not have collected from ratepayers the costs of its reliable power coalitions (West Virginians for Reliable Power, Marylanders for Reliable Power and Virginians for Reliable Energy), its PATH Education Awareness Team (or "PEAT"), its memberships in civic and social groups, its lobbying for release of a conservation easement in Loudoun County, Virginia, its hiring of a well-connected lobbyist in West Virginia, its cost of public opinion polling and focus groups in West Virginia, Virginia and Maryland, and the cost of all of PATH's television, radio and print advertising promoting its project in all three states. The Commission has ordered PATH to refund these costs (plus unearned return and interest) to millions of ratepayers in PJM's 13-state region.

It truly was no bed of roses. We combed through hundreds of thousands of documents, learned FERC's accounting rules, learned how to write and file all sorts of legal pleadings, made dozens of trips to FERC's offices in DC, and suffered through some middle of the nighters in order to meet deadlines. We've spent the past 6 years jumping one hurdle after another to get to this point.
And we're still friends. Never once did we consider giving up or splitting our team. No matter how heavy the burden, we kept our eyes on the prize.
Opinion No. 554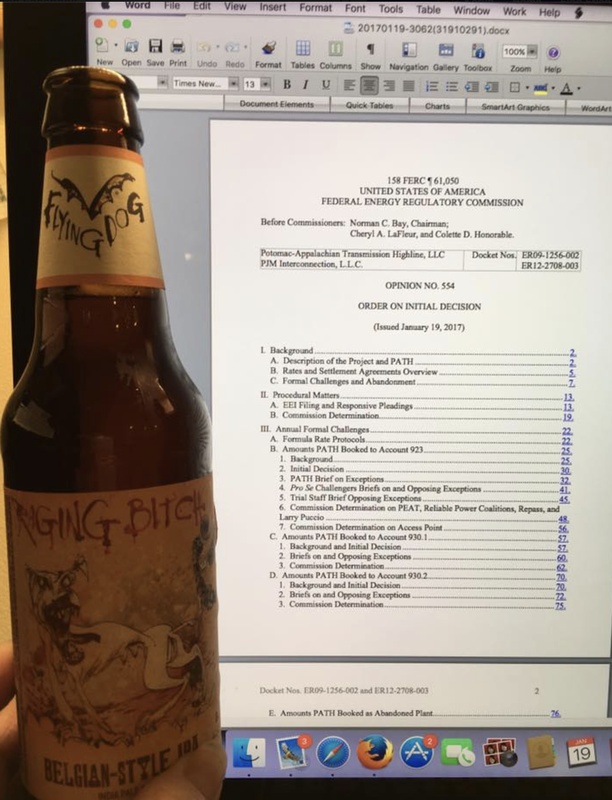 The Commission also ordered accounting transactions to remove an additional $1.1M of public relations & advertising expenses PATH booked to its asset account in 2008, before Ali and I began to challenge PATH's annual rate filings. This $1.1M of cost has been sitting neatly in an account where it earned 14.3% (and then 10.4%) return on equity for the PATH companies every year since. Not only will PATH have to deduct those costs from its ultimate recovery, it has also been ordered to make a compliance filing to essentially correct and replace each of its annual accounting filings for the past 8 years. This approach allows crediting of that undue return to ratepayers. So, while the total disallowance to PATH is more than $7.1M, the total ratepayer credit effected will be much more.

We appreciate the Commission's order, and our overall experience at FERC. In an era where the agency has been kicked around by protestors and the media, we can honestly say that we were treated well by FERC staff, judges, and commissioners. We never felt dismissed or marginalized. We felt that our concerns were heard.

We wouldn't change a thing.