Wow, time's a running short for the Rock Island Clean Line to get its
Exhibit E
material filed at the Iowa Utility Board. Even with Clean Line whining about the expense and time involved in collecting the information,
the IUB set a deadline of January 13, 2017
for the filing of Exhibit E material for at least 4 counties, each of which shall have an approximately average number of condemnation parcels. That means no cheating by submitting
the counties with the smallest number of condemnation parcels
first. And then every month thereafter, Clean Line must file Exhibit E material for at least 4 more "average" counties, with all material to be filed by May 1, 2017.
So, where ya been, Clean Line? I thought the idea of all these delays was to give you opportunity to sign more voluntary easements? I'm guessing that's not going to happen, since nobody has seen Clean Line doing much of anything in Iowa. Just another waste of time. However, the clock is ticking toward the deadline for merchant projects that was made law by the Iowa legislature last session. There's no time to waste! And, speaking of the legislature, won't Clean Line have fun during the upcoming session, now that the Iowa Senate is Republican lead?
I wonder what's going to be more expensive, the Exhibit E material, or the money Clean Line is going to spend on lobbyists during the upcoming legislative session? Money-saving tip: Don't waste your money on lobbyists next year! Nobody's interested in listening to you cry about how poor you are at the IUB when you're shelling out millions for lobbyists all over the place.
And remember what the IUB suggests regarding eminent domain for utility projects:

•Avoid ED if possible (time, cost, public rel.)

Right. Those Exhibit E's take a lot of time and money to prepare, but that's nothing compared to the public relations (and political) nightmare you're about to embark upon. The taking of more than 1,000 parcels of land in Iowa by eminent domain to build your project is never going to happen. Successful utility projects typically take less than 10% of property through eminent domain, not 85%. You must have done something wrong in Iowa, Clean Line.... like arrogantly assuming you could force landowners to negotiate after the IUB rubberstamped your request for eminent domain authority. Ooops!
And what good is any of this when you don't have a permit in Illinois? You're awfully optimistic about your chances before the Illinois Supreme Court, not to mention your unrealistic timetable to which the Court is very unlikely to adhere. What does your fantasy timetable have to do with the amount of money you're spending in Iowa which may turn out to be a total waste?
And then you go and do this... you use
"Theresa"
to speak on your behalf in the
Chicago Tribune story
about your Supreme Court case. Err.... I mean Nancy, because that's apparently her real name, not the one she signed up as at the Illinois Commerce Commission public hearing in Mendota in September of 2013. Look, same woman in the Tribune story, except in that sign up line she wrote her name as "Theresa Hoover."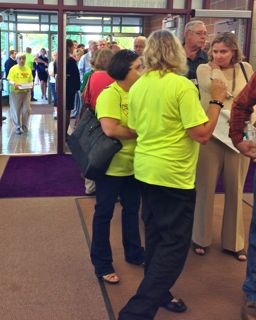 AUDIENCE MEMBER: Excuse me.You called Theresa Hoover who is a colleague of mine right before this gentleman spoke. Is there an opportunity for me to speak?

HEARING OFFICER: Say that
again.

AUDIENCE MEMBER: You called
Theresa Hoover.

HEARING OFFICER: Yes.

AUDIENCE MEMBER: My name was
supposed to be on the card instead of
Theresa's, so when you called her I
didn't step up because I didn't know it
was --

HEARING OFFICER: I have got to
go by what I started with.

AUDIENCE MEMBER: So would it
be okay if Theresa came up and spoke?

HEARING OFFICER: Pardon me?

AUDIENCE MEMBER: Are you
saying Theresa would need to come up?

HEARING OFFICER: Correct.

AUDIENCE MEMBER: Okay.

Fast Forward through one speaker...

HEARING OFFICER: Where did
that gentleman go that asked me the
question?
Is Theresa here?

AUDIENCE MEMBER: She is.

HEARING OFFICER: Where is she?

AUDIENCE MEMBER: Here.

HEARING OFFICER: Theresa,
stand up, please.
Was it supposed to be his name on
there instead of yours?

THERESA HOOVER: Yes, sir, it
was.

HEARING OFFICER: Okay.

KERYN NEWMAN: Some other lady
signed that name because they were right
in front of us. Some lady that already
spoke signed Theresa's name up. I
watched her do it.
Theresa and him, neither one of them
signed their name

HEARING OFFICER: Is that true?

AUDIENCE MEMBER: I did not sign my name. Theresa was supposed to sign my name.

HEARING OFFICER: Theresa, did
you sign your name?

THERESA HOOVER: No, sir,
actually someone who got here before us.
We made a long trip from Atlanta and
there was a gentleman that signed us up.

HEARING OFFICER: No, no.

Nancy, aka "Theresa" is obviously only supporting Clean Line in exchange for the tax money she thinks it will bring to her county. She doesn't look like she was having a great time tromping through the mud pretending to like Clean Line for the Tribune photographer. But what won't these local economic development employees do for a buck?

So, RICL, stop wasting your investors' money on this project and just go away. You'll never beat the clock.

Tick Tock!