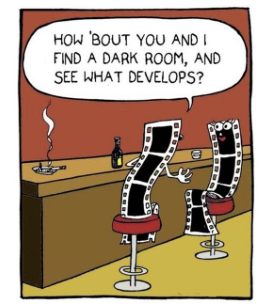 Well, isn't that nice? Clean Line's Mark Lawlor got all chatty with the Missouri Times, who tried to create the fantasy that the Grain Belt Express transmission project is pretty much approved by the Missouri Public Service Commission.
Nothing could be further from the truth.

"Clean Line closing in on final order with the PSC"
appears to be the work of a journalist who doesn't understand the PSC process and prefers to present only one side of the story. Clean Line isn't "closing in" on anything. The parties (including those who oppose the project, because even if the story doesn't mention them, they still exist) are merely jockeying for position to develop a procedural schedule. Big. Stinkin'. Deal. This does not mean that the process has officially even started yet, but once it does, other parties will have opportunity to present evidence to the Commission and argue their position. The positions of the opposition were enough to convince the PSC to deny GBE's first application in Missouri. Nothing much has changed. Except the propaganda... Clean Line is pouring that on real, real thick.
Does Clean Line think that the MO PSC is going to be swayed by propaganda and third party advocacy, instead of evidence and law?
The Grain Belt Express Clean Line wind energy project has made significant steps towards getting the final green light from the Public Service Commission.

Since the case hasn't even started yet, it remains to be seen if Clean Line's newest application will do anything to convince the PSC to approve the project. Who decided "significant steps towards getting the final green light" have happened? The Missouri Times? Clean Line? I'm sorry, but the only entity who can decide that is the MO PSC, and they haven't decided anything yet. And what's this about a "final" green light? This implies that a preliminary "green light" has already happened, and that's just not true. It's been nothing but RED lights for Clean Line in Missouri so far.

And do you know why GBE "stalled" in July? Because it filed an improper application in June that was rejected by the PSC. "Stalled" isn't quite the proper word, denied is more apt.

So, the only "news" here is that the Missouri Times mistakenly believes "the case has officially started with the commission." That's not news. I'm pretty sure everyone already knows that. And... wowzers, on the edge of your seat, folks... the PSC gave the go-ahead to finalize a public hearing schedule. It doesn't mean the schedule is set or anything. It means the parties are still arguing about it. This is not news either.

So, Mark is excited. I hope you're all excited, too.

"It wouldn't make a lot of sense to build a line around Missouri," Lawlor said, adding that he is confident the PSC will rule fairly on the merits of the project, not the factor. "They're going to judge the case on its merits and whether it meets the standards that Missouri has under its statutes. They will ask, 'Is there a need for the project and is it it in the public interest?' We have put forth a strong argument that there's a need."

I'm also confident the PSC will rule fairly on the merits of the project. And that GBE has done nothing much to create any "need" for its project. Because, at the end of the day, Clean Line's "contract" with Missouri cities isn't binding. The cities can elect not to participate at a later date, like when they find out that the purported wind energy they are going to have to purchase from another party in order to use GBE's capacity is much more expensive than Clean Line originally quoted. Because Clean Line does not sell energy. It can't price energy. It can only sell transmission capacity, which amounts to an empty extension cord not plugged into any energy source. Who buys an extension cord that's not plugged into anything and hopes a cheap generator gets built later on? And guess what? The lights will not go out in any Missouri city if Clean Line is not built. And the cities can't even claim any savings from a Clean Line... because any savings are purely speculative at this point. Without contracted energy, the cost to the Missouri cities is nothing but a big, fat, guess. So, no need, no public interest, not a public utility.

And all that blather about what some "Fortune 100" companies want is also a load of who shot John. If these companies want renewable energy, there's nothing stopping them from buying it. Right now. Today. And if they're really considering opening new facilities in locations where renewable energy is available, the prudent thing to do would be to locate the facilities near renewable energy generators, not in places where they have to pay transmission charges on a "clean" line. We don't "need to do them" so the companies can pay extra for transmission.

And then Lawlor piles on some condescending "concern" for Missouri. Don't be fooled... Mark's primary concern is turning a profit for his company, not providing electricity to Missouri.

While Indiana and Illinois signed onto the project before Missouri, Missouri was always seen as the most integral partner of the project. Lawlor says that belief can cause some to believe Missouri would not get much benefit out of the project, even though Missouri would get roughly 500 MW from wind energy as a result.

"Some folks get distracted this is something going through Missouri, the reality is that this is delivering power to Missouri," he said. "From day one, it was just going to be a Kansas to Missouri line, but we found the Missouri grid couldn't take that much power.

"Missouri's key to this whole thing and we hope and expect we can bring those benefits to the state," Lawlor said.

Missouri will only "get" roughly 500 MW of Clean Line's capacity if load serving entities actually purchase it. Clean Line isn't giving "benefits" away for free. If there are no purchasers, there are no "benefits." And so far there are no firm purchasers. Clean Line isn't delivering anything to Missouri, or any other state, without firm customers. In fact, Lawlor forgot to mention that Clean Line's speculative "contract" with Missouri cities also proposes to sell capacity to the cities to export their dirty coal-fired power to other states. If 500 MW comes in, and 500 MW goes out, what does Missouri get? Fooled, that's what they'd get.
If Missouri is the key, Clean Line is in a heap of trouble.
So, what is it about The Missouri Times that makes them publish these kinds of stories?
The Gateway Journalism Review took a good, hard look at the Times earlier this year, and found a bunch of unpaid bills, unpaid taxes, and an editor who "was convicted by a Cape Girardeau County jury of three counts of felony forgery. In that case, he was accused of forging checks for an account for a highway expansion project."
A reporter attempted to interview Faughn about his companies' money troubles. The Missouri Times is headquartered at 129 East High St. in Jefferson City. A reporter found Faughn there at the top of a two-story walkup, inside a darkened room resembling a lounge.

Faughn was standing behind a bar in the room with a laptop computer in front of him. Liquor bottles stood on shelves on the wall behind him. Black and white photos of politicians covered the other walls of the room.

Faughn declined a face-to-face interview. He said he would consider written questions sent by email. Questions were emailed March 17. Faughn acknowledged receiving them March 21, but said he could not respond until next week.

Faughn, the former mayor of Poplar Bluff, launched the Missouri Times in 2013 with former Missouri House Speaker Rod Jetton. Faughn was Jetton's former campaign manager. Jetton has since severed ties with the operation.

Oh, I see. This is the kind of publication that publishes glowing stories about Clean Line "closing in" on PSC approval. It all makes sense now.

But what I really want to know, after reading this story, is when GBE is denied by the MO PSC for the second time, will Clean Line will finally go away? After all, the story says a "final order" of the PSC is about to happen. A final order on GBE's first application already happened, but the company has yet to go away. Let's hope this time final means final.